Please read the following carefully BEFORE YOU LEAVE HOME so you can enjoy your event at Ford Field.
We're really excited to have you join us in our Suite at Ford Field! Here's some important information for you:
PARKING:
Parking is $50 in Ford Field lots. Click here for more parking information.
The Ford Field Parking Deck is located at 1902 St. Antione St.
St. Antione Street is usually barricaded at Gratiot. Turn left on Gratiot. Pass Beaubien St. then turn right on Brush St. Take your next right on Madison. Veer left to get back on St. Antione. Then turn right into the parking structure.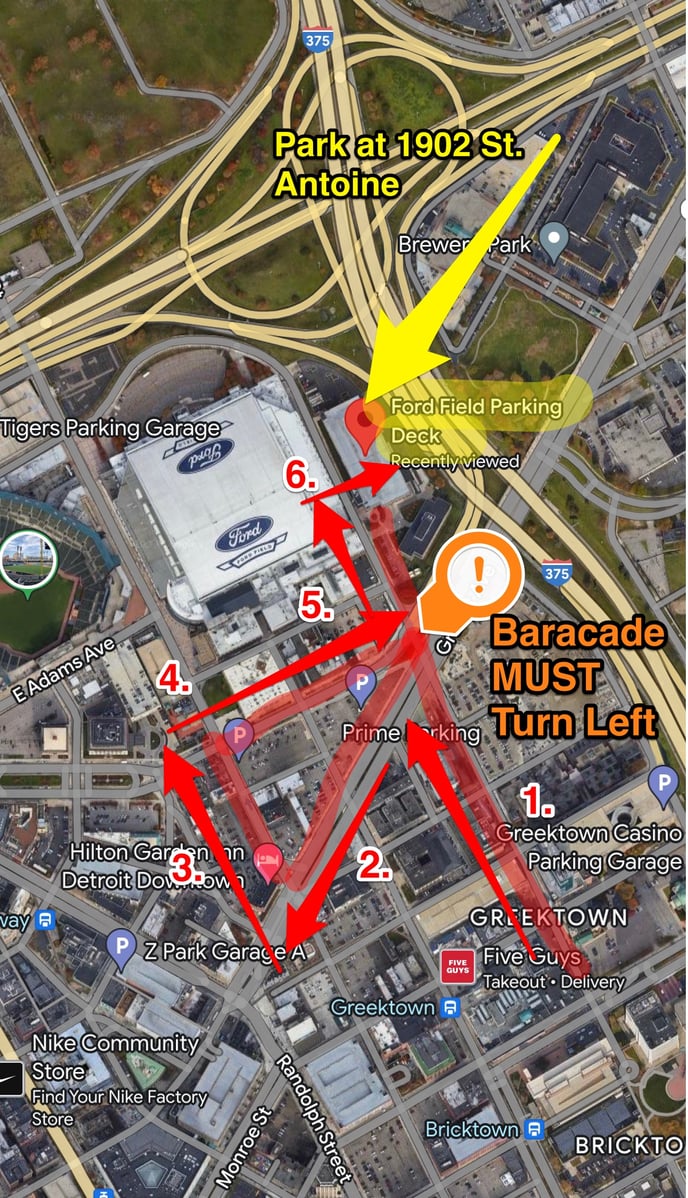 If you want to pre-purchase parking for other lots, click here.
PROHIBITED ITEMS:
Please click here to view prohibited items. Ford Field security is very strict about purses and bags, so be sure to review the link above before you leave home.
CAMERA POLICY:
- Small personal cameras are allowed
- GoPro/video cameras of any type are not allowed
- No selfie sticks, tripods, or monopods
- Camera bags and cases are not allowed
- Any camera with a detachable lens longer than 5" is not allowed
FORD FIELD CODE OF CONDUCT:

Not that you need it, but here it is.

The following actions may lead to ticket revocation, ejection and/or arrest:
- Displaying inconsiderate or otherwise inappropriate behavior towards others.
- Behavior that is unruly, unhealthy, disruptive or illegal in nature.
- Using foul or abusive language or obscene gestures.
- Intoxication or other signs of alcohol or substance impairment that results in irresponsible behavior.
- Interference with the progress of the concert including throwing objects onto the stage.
- Violating the no smoking policy. As a reminder, smoking and vaping is strictly prohibited inside of the stadium. This includes the use of electronic cigarettes, other vaping devices, marijuana (including prescription) and all other tobacco-related products. Violators found smoking or chewing/spitting tobacco inside of the stadium are subject to immediate ejection.
- Attempting to access areas without the proper ticket and/or credential, or misuse of tickets and/or credentials, or sitting in a seat other than your assigned ticket location.
- Failing to provide a ticket and/or seating information to a Ford Field representative upon request.
- Wearing obscene or indecent clothing.
- Damaging or destruction to the building or property surrounding Ford Field including the parking areas.
- Failing to follow the instructions of Ford Field representatives.
- Offenses against anyone including players, coaches, officials, opposing team fans and staff will not be tolerated including foul language, racial slurs, verbal abuse, or throwing objects.
- Interference with the progress of the game.
- Sale, promotion, exchange or giveaway of unauthorized handouts, items or goods.